(версия на български език: ЦЪК!
I can safely say that there are things in this life that I know for sure.
For example, I surely know that the sun always rises, no matter how dark the night has been.
I do know that inspiration comes from small things and that stagnation leads to death.
I do know that the simplest thing is made up of thousands of details that one needs to truly know in order to be brilliant at doing that same simple thing (because being just "good" is usually not enough).
Also, I surely know that creativity and madness are sisters and can not exist without each other 🙂 – one can not be creative, conceptual and resourceful without being at least a little crazy, colorful, tireless and irrepressible ?
Today I will tell you about (or rather will show you) the creations of a phenomenal, multitalanted (or rather, strangely talanated ?), gifted person.
A musician by education, phenomenally craftful, bold and quick in both thinking and action. I have never met a more intuitive and resourceful person – Stoyan is able to generate an idea by second, without any effort of will, spirit or body. After two hours spent with him, you'll be ready to rearrange even the walls of your home and you will be happy with this decision.
At the same time, while working he becomes frighteningly accurate. I am meticulous, capricious, and demanding, yet I'm just at the bottom of the scale of his expectations and far, far below the demands of some of his customers.
Yes, customers. Stoyan is the man who sews clothes for your walls. Yes, it sounds strange and different, but "dressing up the walls at home," is the most accurate description of this craft.
Stoyan showed me that leather is suitable for floors, that fabrics are capricious in terms of humidity and heat (!) (during processing, sewing, installing,…), that the closets also love to dress up, that square edges are dull …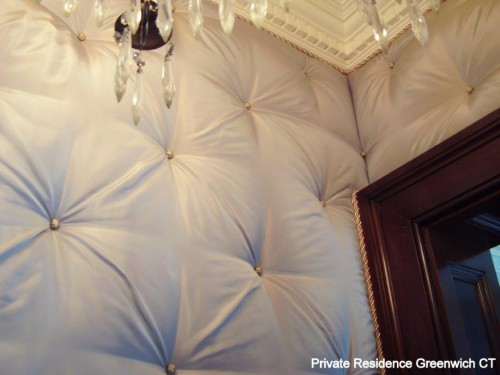 I learned about silk and satin, pleat and drape, about checkered fabrics and velvet, and stripes…
I learned that for every idea exists a perfect material and that the phrase "compromise in performance" does not exist in Stoyan`s vocabulary. If a job can not be done perfectly, he would never accept it.
And where the world of facts ends, the world of fantasy begins – your own fantasy induced by Stoyan`s imagination.
He will dress up almost any idea that might cross your mind! 🙂
Now I am goning to dress up my words for you… in pictures! 🙂
Happy dreaming!